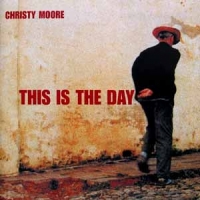 2001
The three of us reconvened 16 years after "Ride On", 20 years after "Moving Hearts". Straight off it was a jell.†
My sister Terry sent me a version of Jackson Browne's "How Long". Wally Page sent me "So do I" maybe twenty years ago and it just reappeared from nowhere during the making of the album. "Johnny Don't go" I got from the writer John Spillane maybe 7-8 years ago and it resting in a drawer.
"Veronica" I wrote upon hearing of the terrible fate of the late Veronica Guerin. McCarthy sent me "The Contender" a number of years ago. I'd wanted to record it for years but every chanter in Ireland was recording it - but I still felt there was another version to be done. I heard McColl sing "Companeros" in an English Fold club in Lincolnshire circa 1967.
"Cry like a man" I lifted straight from an album of the author Dan Penn. "Stitch" came from my good friend Mike Waterson in north Yorkshire via his brother in law Martin Carty. "Victor" came from Arlo Guthrie after a great night in Shinrone (or was it from Luke in Bray?). "Scallcrows" I wrote for Eamon Dunphy and Terry Keane. "The Pipers Path" from the singing of Lal Waterson who co-wrote the song. Hers was one of the unique voices I've encountered.
Track List - This Is The Day, 2001.
How Long.
So Do I.
Johnny Don't Go.
Veronica.
Jack Doyle (AKA The Contenders)
Companeros
Cry Like A Man.
A Stitch In Time.
Victor Jara.
The Pipers Path.
Veronica
Companeros
Scallcrows